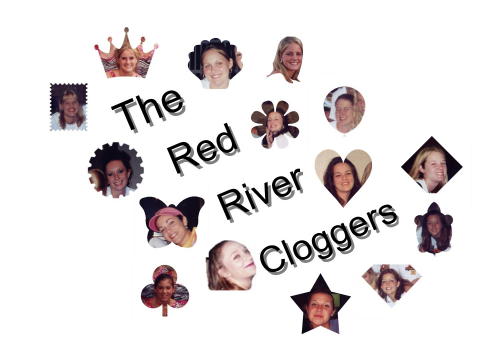 *2003*
~Upcoming Events~
Heber Springs Recital May 24
Clinton Recital May 31
Carnival Cruise Lines "Holiday" June 21-26
New Orleans June 27
Archey Fork Days June 28-29
Silver Dollar City July 6-12
Silver Dollar City July 19-26
Silver Dollar City August 10



The Red River Cloggers are an exuberant and enthusiastic troupe from Clinton and Heber Springs, Arkansas,under the direction of Judi King, range in age from 14 to 20 and have been taking dance lessons for 10 to 15 years. They perform a high energy show to country, western, Irish and pop music. This group has a very broad dance background. The cloggers also take classes in tap, jazz, ballet, Irish and gymnastics. The troupe has literally danced from coast to coast. In 1996, they performed in the Macy's Thanksgiving Day Parade in New York city, with the cast from the off Broadway show "Cowgirls" and the Tuscon Arizona Boys Choir. In addition to the Macy's Thanksgiving Day Parade they have entertained audiences in the Bahamas, Premier Cruise Lines, Big Red Boat, Santa Monica's Third Street Promenade in California, as well as Catalina Island and Disney Land in Anaheim. They have also danced Opryland USA's Roy Acuff Theatre, in Nashville, Half-time of the Sugar Bowl in New Orleans, four seasons at Dolly Partons Celebrity Theatre, in Pigeon Forge, Tennessee, and eight seasons at SilverDollar City in Branson, Missouri. Not to mention Disneyworld's Fantasy Land Pavilion in Orlando, Florida, where they performed again June of 2000 in the Magic Kingdom and the Wild Horse Saloon in Pleasure Island. During the summer of 2001, the group danced at Sea World in San Antonio, Texas. The troupe has also won numerous dance competitions throughout the south. The troupe also does many clog dance exhibitions throughout the year. The Red River Cloggers are FAMILY ENTERTAINMENT AT IT'S VERY BEST.




Learn More About the Cloggers:



redrivercloggers@excite.com
RRC only!